Warning
: preg_match(): Compilation failed: invalid range in character class at offset 4 in
/misc/29/000/112/118/1/user/web/youredmontonwedding.com/wp-content/plugins/hover-pin-it/lib/simple_html_dom.php
on line
1110
Warning
: preg_match(): Compilation failed: invalid range in character class at offset 4 in
/misc/29/000/112/118/1/user/web/youredmontonwedding.com/wp-content/plugins/hover-pin-it/lib/simple_html_dom.php
on line
1110
Warning
: preg_match(): Compilation failed: invalid range in character class at offset 4 in
/misc/29/000/112/118/1/user/web/youredmontonwedding.com/wp-content/plugins/hover-pin-it/lib/simple_html_dom.php
on line
1110
Warning
: preg_match(): Compilation failed: invalid range in character class at offset 4 in
/misc/29/000/112/118/1/user/web/youredmontonwedding.com/wp-content/plugins/hover-pin-it/lib/simple_html_dom.php
on line
1110
Warning
: preg_match(): Compilation failed: invalid range in character class at offset 4 in
/misc/29/000/112/118/1/user/web/youredmontonwedding.com/wp-content/plugins/hover-pin-it/lib/simple_html_dom.php
on line
1110
Warning
: preg_match(): Compilation failed: invalid range in character class at offset 4 in
/misc/29/000/112/118/1/user/web/youredmontonwedding.com/wp-content/plugins/hover-pin-it/lib/simple_html_dom.php
on line
1110
Warning
: preg_match(): Compilation failed: invalid range in character class at offset 4 in
/misc/29/000/112/118/1/user/web/youredmontonwedding.com/wp-content/plugins/hover-pin-it/lib/simple_html_dom.php
on line
1110
Warning
: preg_match(): Compilation failed: invalid range in character class at offset 4 in
/misc/29/000/112/118/1/user/web/youredmontonwedding.com/wp-content/plugins/hover-pin-it/lib/simple_html_dom.php
on line
1110
Warning
: preg_match(): Compilation failed: invalid range in character class at offset 4 in
/misc/29/000/112/118/1/user/web/youredmontonwedding.com/wp-content/plugins/hover-pin-it/lib/simple_html_dom.php
on line
1110
Warning
: preg_match(): Compilation failed: invalid range in character class at offset 4 in
/misc/29/000/112/118/1/user/web/youredmontonwedding.com/wp-content/plugins/hover-pin-it/lib/simple_html_dom.php
on line
1110
Warning
: preg_match(): Compilation failed: invalid range in character class at offset 4 in
/misc/29/000/112/118/1/user/web/youredmontonwedding.com/wp-content/plugins/hover-pin-it/lib/simple_html_dom.php
on line
1110
Warning
: preg_match(): Compilation failed: invalid range in character class at offset 4 in
/misc/29/000/112/118/1/user/web/youredmontonwedding.com/wp-content/plugins/hover-pin-it/lib/simple_html_dom.php
on line
1110
Warning
: preg_match(): Compilation failed: invalid range in character class at offset 4 in
/misc/29/000/112/118/1/user/web/youredmontonwedding.com/wp-content/plugins/hover-pin-it/lib/simple_html_dom.php
on line
1110
Warning
: preg_match(): Compilation failed: invalid range in character class at offset 4 in
/misc/29/000/112/118/1/user/web/youredmontonwedding.com/wp-content/plugins/hover-pin-it/lib/simple_html_dom.php
on line
1110
Warning
: preg_match(): Compilation failed: invalid range in character class at offset 4 in
/misc/29/000/112/118/1/user/web/youredmontonwedding.com/wp-content/plugins/hover-pin-it/lib/simple_html_dom.php
on line
1110
Warning
: preg_match(): Compilation failed: invalid range in character class at offset 4 in
/misc/29/000/112/118/1/user/web/youredmontonwedding.com/wp-content/plugins/hover-pin-it/lib/simple_html_dom.php
on line
1110
Warning
: preg_match(): Compilation failed: invalid range in character class at offset 4 in
/misc/29/000/112/118/1/user/web/youredmontonwedding.com/wp-content/plugins/hover-pin-it/lib/simple_html_dom.php
on line
1110
Warning
: preg_match(): Compilation failed: invalid range in character class at offset 4 in
/misc/29/000/112/118/1/user/web/youredmontonwedding.com/wp-content/plugins/hover-pin-it/lib/simple_html_dom.php
on line
1110
Warning
: preg_match(): Compilation failed: invalid range in character class at offset 4 in
/misc/29/000/112/118/1/user/web/youredmontonwedding.com/wp-content/plugins/hover-pin-it/lib/simple_html_dom.php
on line
1110
Warning
: preg_match(): Compilation failed: invalid range in character class at offset 4 in
/misc/29/000/112/118/1/user/web/youredmontonwedding.com/wp-content/plugins/hover-pin-it/lib/simple_html_dom.php
on line
1110
Warning
: preg_match(): Compilation failed: invalid range in character class at offset 4 in
/misc/29/000/112/118/1/user/web/youredmontonwedding.com/wp-content/plugins/hover-pin-it/lib/simple_html_dom.php
on line
1110
Warning
: preg_match(): Compilation failed: invalid range in character class at offset 4 in
/misc/29/000/112/118/1/user/web/youredmontonwedding.com/wp-content/plugins/hover-pin-it/lib/simple_html_dom.php
on line
1110
Warning
: preg_match(): Compilation failed: invalid range in character class at offset 4 in
/misc/29/000/112/118/1/user/web/youredmontonwedding.com/wp-content/plugins/hover-pin-it/lib/simple_html_dom.php
on line
1110
Warning
: preg_match(): Compilation failed: invalid range in character class at offset 4 in
/misc/29/000/112/118/1/user/web/youredmontonwedding.com/wp-content/plugins/hover-pin-it/lib/simple_html_dom.php
on line
1110
Warning
: preg_match(): Compilation failed: invalid range in character class at offset 4 in
/misc/29/000/112/118/1/user/web/youredmontonwedding.com/wp-content/plugins/hover-pin-it/lib/simple_html_dom.php
on line
1110
Warning
: preg_match(): Compilation failed: invalid range in character class at offset 4 in
/misc/29/000/112/118/1/user/web/youredmontonwedding.com/wp-content/plugins/hover-pin-it/lib/simple_html_dom.php
on line
1110
Warning
: preg_match(): Compilation failed: invalid range in character class at offset 4 in
/misc/29/000/112/118/1/user/web/youredmontonwedding.com/wp-content/plugins/hover-pin-it/lib/simple_html_dom.php
on line
1110
Warning
: preg_match(): Compilation failed: invalid range in character class at offset 4 in
/misc/29/000/112/118/1/user/web/youredmontonwedding.com/wp-content/plugins/hover-pin-it/lib/simple_html_dom.php
on line
1110
Warning
: preg_match(): Compilation failed: invalid range in character class at offset 4 in
/misc/29/000/112/118/1/user/web/youredmontonwedding.com/wp-content/plugins/hover-pin-it/lib/simple_html_dom.php
on line
1110
Warning
: preg_match(): Compilation failed: invalid range in character class at offset 4 in
/misc/29/000/112/118/1/user/web/youredmontonwedding.com/wp-content/plugins/hover-pin-it/lib/simple_html_dom.php
on line
1110
Warning
: preg_match(): Compilation failed: invalid range in character class at offset 4 in
/misc/29/000/112/118/1/user/web/youredmontonwedding.com/wp-content/plugins/hover-pin-it/lib/simple_html_dom.php
on line
1110
Warning
: preg_match(): Compilation failed: invalid range in character class at offset 4 in
/misc/29/000/112/118/1/user/web/youredmontonwedding.com/wp-content/plugins/hover-pin-it/lib/simple_html_dom.php
on line
1110
Warning
: preg_match(): Compilation failed: invalid range in character class at offset 4 in
/misc/29/000/112/118/1/user/web/youredmontonwedding.com/wp-content/plugins/hover-pin-it/lib/simple_html_dom.php
on line
1110
Warning
: preg_match(): Compilation failed: invalid range in character class at offset 4 in
/misc/29/000/112/118/1/user/web/youredmontonwedding.com/wp-content/plugins/hover-pin-it/lib/simple_html_dom.php
on line
1110
Warning
: preg_match(): Compilation failed: invalid range in character class at offset 4 in
/misc/29/000/112/118/1/user/web/youredmontonwedding.com/wp-content/plugins/hover-pin-it/lib/simple_html_dom.php
on line
1110
Warning
: preg_match(): Compilation failed: invalid range in character class at offset 4 in
/misc/29/000/112/118/1/user/web/youredmontonwedding.com/wp-content/plugins/hover-pin-it/lib/simple_html_dom.php
on line
1110
Warning
: preg_match(): Compilation failed: invalid range in character class at offset 4 in
/misc/29/000/112/118/1/user/web/youredmontonwedding.com/wp-content/plugins/hover-pin-it/lib/simple_html_dom.php
on line
1110
Warning
: preg_match(): Compilation failed: invalid range in character class at offset 4 in
/misc/29/000/112/118/1/user/web/youredmontonwedding.com/wp-content/plugins/hover-pin-it/lib/simple_html_dom.php
on line
1110
Warning
: preg_match(): Compilation failed: invalid range in character class at offset 4 in
/misc/29/000/112/118/1/user/web/youredmontonwedding.com/wp-content/plugins/hover-pin-it/lib/simple_html_dom.php
on line
1110
Warning
: preg_match(): Compilation failed: invalid range in character class at offset 4 in
/misc/29/000/112/118/1/user/web/youredmontonwedding.com/wp-content/plugins/hover-pin-it/lib/simple_html_dom.php
on line
1110
Warning
: preg_match(): Compilation failed: invalid range in character class at offset 4 in
/misc/29/000/112/118/1/user/web/youredmontonwedding.com/wp-content/plugins/hover-pin-it/lib/simple_html_dom.php
on line
1110
Warning
: preg_match(): Compilation failed: invalid range in character class at offset 4 in
/misc/29/000/112/118/1/user/web/youredmontonwedding.com/wp-content/plugins/hover-pin-it/lib/simple_html_dom.php
on line
1110
Warning
: preg_match(): Compilation failed: invalid range in character class at offset 4 in
/misc/29/000/112/118/1/user/web/youredmontonwedding.com/wp-content/plugins/hover-pin-it/lib/simple_html_dom.php
on line
1110
Warning
: preg_match(): Compilation failed: invalid range in character class at offset 4 in
/misc/29/000/112/118/1/user/web/youredmontonwedding.com/wp-content/plugins/hover-pin-it/lib/simple_html_dom.php
on line
1110
Warning
: preg_match(): Compilation failed: invalid range in character class at offset 4 in
/misc/29/000/112/118/1/user/web/youredmontonwedding.com/wp-content/plugins/hover-pin-it/lib/simple_html_dom.php
on line
1110
Warning
: preg_match(): Compilation failed: invalid range in character class at offset 4 in
/misc/29/000/112/118/1/user/web/youredmontonwedding.com/wp-content/plugins/hover-pin-it/lib/simple_html_dom.php
on line
1110
Warning
: preg_match(): Compilation failed: invalid range in character class at offset 4 in
/misc/29/000/112/118/1/user/web/youredmontonwedding.com/wp-content/plugins/hover-pin-it/lib/simple_html_dom.php
on line
1110
Warning
: preg_match(): Compilation failed: invalid range in character class at offset 4 in
/misc/29/000/112/118/1/user/web/youredmontonwedding.com/wp-content/plugins/hover-pin-it/lib/simple_html_dom.php
on line
1110
Warning
: preg_match(): Compilation failed: invalid range in character class at offset 4 in
/misc/29/000/112/118/1/user/web/youredmontonwedding.com/wp-content/plugins/hover-pin-it/lib/simple_html_dom.php
on line
1110
Warning
: preg_match(): Compilation failed: invalid range in character class at offset 4 in
/misc/29/000/112/118/1/user/web/youredmontonwedding.com/wp-content/plugins/hover-pin-it/lib/simple_html_dom.php
on line
1110
Warning
: preg_match(): Compilation failed: invalid range in character class at offset 4 in
/misc/29/000/112/118/1/user/web/youredmontonwedding.com/wp-content/plugins/hover-pin-it/lib/simple_html_dom.php
on line
1110
Warning
: preg_match(): Compilation failed: invalid range in character class at offset 4 in
/misc/29/000/112/118/1/user/web/youredmontonwedding.com/wp-content/plugins/hover-pin-it/lib/simple_html_dom.php
on line
1110
Warning
: preg_match(): Compilation failed: invalid range in character class at offset 4 in
/misc/29/000/112/118/1/user/web/youredmontonwedding.com/wp-content/plugins/hover-pin-it/lib/simple_html_dom.php
on line
1110
Warning
: preg_match(): Compilation failed: invalid range in character class at offset 4 in
/misc/29/000/112/118/1/user/web/youredmontonwedding.com/wp-content/plugins/hover-pin-it/lib/simple_html_dom.php
on line
1110
Warning
: preg_match(): Compilation failed: invalid range in character class at offset 4 in
/misc/29/000/112/118/1/user/web/youredmontonwedding.com/wp-content/plugins/hover-pin-it/lib/simple_html_dom.php
on line
1110
Warning
: preg_match(): Compilation failed: invalid range in character class at offset 4 in
/misc/29/000/112/118/1/user/web/youredmontonwedding.com/wp-content/plugins/hover-pin-it/lib/simple_html_dom.php
on line
1110
Warning
: preg_match(): Compilation failed: invalid range in character class at offset 4 in
/misc/29/000/112/118/1/user/web/youredmontonwedding.com/wp-content/plugins/hover-pin-it/lib/simple_html_dom.php
on line
1110
Warning
: preg_match(): Compilation failed: invalid range in character class at offset 4 in
/misc/29/000/112/118/1/user/web/youredmontonwedding.com/wp-content/plugins/hover-pin-it/lib/simple_html_dom.php
on line
1110
Warning
: preg_match(): Compilation failed: invalid range in character class at offset 4 in
/misc/29/000/112/118/1/user/web/youredmontonwedding.com/wp-content/plugins/hover-pin-it/lib/simple_html_dom.php
on line
1110
Warning
: preg_match(): Compilation failed: invalid range in character class at offset 4 in
/misc/29/000/112/118/1/user/web/youredmontonwedding.com/wp-content/plugins/hover-pin-it/lib/simple_html_dom.php
on line
1110
Warning
: preg_match(): Compilation failed: invalid range in character class at offset 4 in
/misc/29/000/112/118/1/user/web/youredmontonwedding.com/wp-content/plugins/hover-pin-it/lib/simple_html_dom.php
on line
1110
Warning
: preg_match(): Compilation failed: invalid range in character class at offset 4 in
/misc/29/000/112/118/1/user/web/youredmontonwedding.com/wp-content/plugins/hover-pin-it/lib/simple_html_dom.php
on line
1110
Warning
: preg_match(): Compilation failed: invalid range in character class at offset 4 in
/misc/29/000/112/118/1/user/web/youredmontonwedding.com/wp-content/plugins/hover-pin-it/lib/simple_html_dom.php
on line
1110
Warning
: preg_match(): Compilation failed: invalid range in character class at offset 4 in
/misc/29/000/112/118/1/user/web/youredmontonwedding.com/wp-content/plugins/hover-pin-it/lib/simple_html_dom.php
on line
1110
Warning
: preg_match(): Compilation failed: invalid range in character class at offset 4 in
/misc/29/000/112/118/1/user/web/youredmontonwedding.com/wp-content/plugins/hover-pin-it/lib/simple_html_dom.php
on line
1110
Warning
: preg_match(): Compilation failed: invalid range in character class at offset 4 in
/misc/29/000/112/118/1/user/web/youredmontonwedding.com/wp-content/plugins/hover-pin-it/lib/simple_html_dom.php
on line
1110
Warning
: preg_match(): Compilation failed: invalid range in character class at offset 4 in
/misc/29/000/112/118/1/user/web/youredmontonwedding.com/wp-content/plugins/hover-pin-it/lib/simple_html_dom.php
on line
1110
Warning
: preg_match(): Compilation failed: invalid range in character class at offset 4 in
/misc/29/000/112/118/1/user/web/youredmontonwedding.com/wp-content/plugins/hover-pin-it/lib/simple_html_dom.php
on line
1110
Warning
: preg_match(): Compilation failed: invalid range in character class at offset 4 in
/misc/29/000/112/118/1/user/web/youredmontonwedding.com/wp-content/plugins/hover-pin-it/lib/simple_html_dom.php
on line
1110
Warning
: preg_match(): Compilation failed: invalid range in character class at offset 4 in
/misc/29/000/112/118/1/user/web/youredmontonwedding.com/wp-content/plugins/hover-pin-it/lib/simple_html_dom.php
on line
1110
Warning
: preg_match(): Compilation failed: invalid range in character class at offset 4 in
/misc/29/000/112/118/1/user/web/youredmontonwedding.com/wp-content/plugins/hover-pin-it/lib/simple_html_dom.php
on line
1110
Warning
: preg_match(): Compilation failed: invalid range in character class at offset 4 in
/misc/29/000/112/118/1/user/web/youredmontonwedding.com/wp-content/plugins/hover-pin-it/lib/simple_html_dom.php
on line
1110
Warning
: preg_match(): Compilation failed: invalid range in character class at offset 4 in
/misc/29/000/112/118/1/user/web/youredmontonwedding.com/wp-content/plugins/hover-pin-it/lib/simple_html_dom.php
on line
1110
Warning
: preg_match(): Compilation failed: invalid range in character class at offset 4 in
/misc/29/000/112/118/1/user/web/youredmontonwedding.com/wp-content/plugins/hover-pin-it/lib/simple_html_dom.php
on line
1110
Warning
: preg_match(): Compilation failed: invalid range in character class at offset 4 in
/misc/29/000/112/118/1/user/web/youredmontonwedding.com/wp-content/plugins/hover-pin-it/lib/simple_html_dom.php
on line
1110
Warning
: preg_match(): Compilation failed: invalid range in character class at offset 4 in
/misc/29/000/112/118/1/user/web/youredmontonwedding.com/wp-content/plugins/hover-pin-it/lib/simple_html_dom.php
on line
1110
Warning
: preg_match(): Compilation failed: invalid range in character class at offset 4 in
/misc/29/000/112/118/1/user/web/youredmontonwedding.com/wp-content/plugins/hover-pin-it/lib/simple_html_dom.php
on line
1110
Warning
: preg_match(): Compilation failed: invalid range in character class at offset 4 in
/misc/29/000/112/118/1/user/web/youredmontonwedding.com/wp-content/plugins/hover-pin-it/lib/simple_html_dom.php
on line
1110
Warning
: preg_match(): Compilation failed: invalid range in character class at offset 4 in
/misc/29/000/112/118/1/user/web/youredmontonwedding.com/wp-content/plugins/hover-pin-it/lib/simple_html_dom.php
on line
1110
Warning
: preg_match(): Compilation failed: invalid range in character class at offset 4 in
/misc/29/000/112/118/1/user/web/youredmontonwedding.com/wp-content/plugins/hover-pin-it/lib/simple_html_dom.php
on line
1110
Warning
: preg_match(): Compilation failed: invalid range in character class at offset 4 in
/misc/29/000/112/118/1/user/web/youredmontonwedding.com/wp-content/plugins/hover-pin-it/lib/simple_html_dom.php
on line
1110
Warning
: preg_match(): Compilation failed: invalid range in character class at offset 4 in
/misc/29/000/112/118/1/user/web/youredmontonwedding.com/wp-content/plugins/hover-pin-it/lib/simple_html_dom.php
on line
1110
Warning
: preg_match(): Compilation failed: invalid range in character class at offset 4 in
/misc/29/000/112/118/1/user/web/youredmontonwedding.com/wp-content/plugins/hover-pin-it/lib/simple_html_dom.php
on line
1110
Warning
: preg_match(): Compilation failed: invalid range in character class at offset 4 in
/misc/29/000/112/118/1/user/web/youredmontonwedding.com/wp-content/plugins/hover-pin-it/lib/simple_html_dom.php
on line
1110
Warning
: preg_match(): Compilation failed: invalid range in character class at offset 4 in
/misc/29/000/112/118/1/user/web/youredmontonwedding.com/wp-content/plugins/hover-pin-it/lib/simple_html_dom.php
on line
1110
Warning
: preg_match(): Compilation failed: invalid range in character class at offset 4 in
/misc/29/000/112/118/1/user/web/youredmontonwedding.com/wp-content/plugins/hover-pin-it/lib/simple_html_dom.php
on line
1110
Warning
: preg_match(): Compilation failed: invalid range in character class at offset 4 in
/misc/29/000/112/118/1/user/web/youredmontonwedding.com/wp-content/plugins/hover-pin-it/lib/simple_html_dom.php
on line
1110
Warning
: preg_match(): Compilation failed: invalid range in character class at offset 4 in
/misc/29/000/112/118/1/user/web/youredmontonwedding.com/wp-content/plugins/hover-pin-it/lib/simple_html_dom.php
on line
1110
Warning
: preg_match(): Compilation failed: invalid range in character class at offset 4 in
/misc/29/000/112/118/1/user/web/youredmontonwedding.com/wp-content/plugins/hover-pin-it/lib/simple_html_dom.php
on line
1110
Warning
: preg_match(): Compilation failed: invalid range in character class at offset 4 in
/misc/29/000/112/118/1/user/web/youredmontonwedding.com/wp-content/plugins/hover-pin-it/lib/simple_html_dom.php
on line
1110
Warning
: preg_match_all(): Compilation failed: invalid range in character class at offset 4 in
/misc/29/000/112/118/1/user/web/youredmontonwedding.com/wp-content/plugins/hover-pin-it/lib/simple_html_dom.php
on line
618
Warning
: Invalid argument supplied for foreach() in
/misc/29/000/112/118/1/user/web/youredmontonwedding.com/wp-content/plugins/hover-pin-it/lib/simple_html_dom.php
on line
625
Warning
: preg_match_all(): Compilation failed: invalid range in character class at offset 4 in
/misc/29/000/112/118/1/user/web/youredmontonwedding.com/wp-content/plugins/hover-pin-it/lib/simple_html_dom.php
on line
618
Warning
: Invalid argument supplied for foreach() in
/misc/29/000/112/118/1/user/web/youredmontonwedding.com/wp-content/plugins/hover-pin-it/lib/simple_html_dom.php
on line
625
I know wedding planning can be overwhelming, that's why I have an event business to help make the planning easier. But for those DIY friends I have you covered too! Today we are going to talk about Wedding Invitations and Stationary and how easy it can be when you know where to look. There are a few different options available to you…
Purchase Your Invitations Online – you can get beautiful invitations that are affordable and come in complete sets.
Purchase From A Local Invitation Designer – Your wedding invitation will be designed for you and personalized to fit your style and wedding.
Create Your Own – I have a graphic design background so this is the route that I went, which has it pros and cons. It's time consuming because it is your invite so you want it to be perfect however on the other hand there is that personal touch only you can create.
All are great ways to create the perfect invitation, it's just up to you to decide how much time you want to spend on it, do you want it customized just for you or is budget going to play a role? So let's review some of the options in more details.
Purchase Your Invitation Online:
I really like this option. Weddings add up quickly so saving in all the right places can make a big difference. Those dollars here and there can add up and ordering your invitations online is such a great way to decrease those costs. What I really like about buying them from some online stores is that they come in complete design sets, that have the RSVP cards, thank you cards, programs, menu cards, and so on. It really brings the whole wedding theme together.
I personally love Shutterfly so I am going to share a few design samples from their collection to give you an idea. Plus they always have some great sales going on, for example right now they have 50% off your entire order. So if you are reading this past that sale then don't worry because there will be more!
Lovely Script Invitation From Shutterfly
– this one comes with the invitation, RSVP card, enclosure card (for things like directions), an address label, thank you card, wedding program and wedding menu. It just makes it so simple and just gorgeous.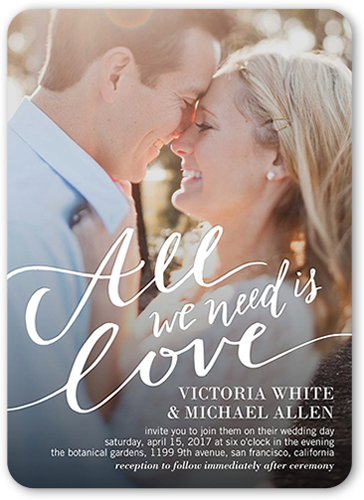 Etched Floral Wedding Invitation from Shutterfly
– I have been asked so many times this year for a geometric shape wedding with lots of greenery so this is definitely a trend and it flows right into invitations. I love how easy it is to add foil to your wedding invitations right now. This one you can also customize the colours, there is a green, this pink and the black which is incredibly classy.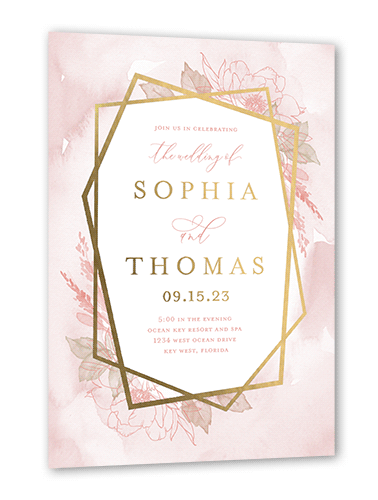 Forever Lovely Day Wedding Invitation by Shutterfly
– This style you don't see that often but please can we see more of them? We take all these beautiful engagement photos and this is the perfect place to share them! How special would it be to receive an invitation filled image  of the people you love inviting you to their big day. I kind of wish that I did this!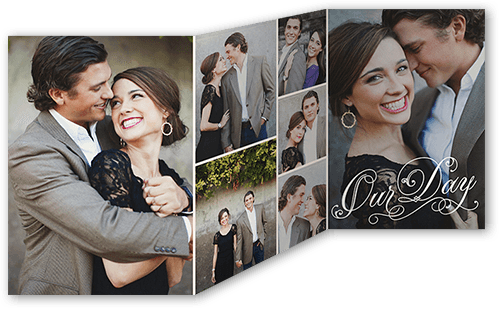 Purchase From A Local Edmonton Wedding Invitation Designer:
I've done this process with my brides and it really is something special. You get to sit down with the designer and look at all the styles they have created, share what you are envisioning and then they go to work to help narrow down exactly what you are looking for. It's a beautiful process. It just allows you to be hands on but without the stress of actually having to do the work. Plus the result is just incredible. I once had 2 teachers work with
Pinkpolka Invitations & Stationary Design
to create wedding stationary that matched their teacher vibe with school notebooks for invites, questionaries for menus and pencils with their names on it that we used for seating charts.
So here are a few local Edmonton Invitations & Stationary Designers you are going to want to check out.
Design The Invitations Yourself:
I am assuming that if you are looking at this option then you have some background in design or you just absolutely love creating, in which case you go girl! Have so much fun creating your perfect wedding invitation and all the coordinating stationary. There are plenty of local printers you can reach out to, online suppliers if you are crafting it but I am sure you know all about it! I'd love to hear and see your invites so send them my way!
Hope today's post helped you find your perfect invitation or someone who is going to create the most gorgeous invite for you. This is your dream day and you deserve to have it be amazing and planned as easily as possible! 
If you haven't gotten it already then you are also going to want to download our FREE Edmonton Wedding Venue Guide to help you find that perfect venue that meets all your needs and fits your  budget. Enjoy!
Jennifer Kinal
Owner/Event Planner at Fresh Look Event Management – http://freshlookevents.com